Our Journey Through Red Rock Country with George
One of the most common issues a production company faces is pitching an idea to a client with an incredible vision in mind, only for the client to not fully grasp the concept themselves. We create storyboards stocked full of vivid imagery and present to cinematic music in an attempt to help our clients see what we see. But at the end of the day, even when the storyboards are approved, there's always that "gap". The gap between pre-production and the final product-- the gap in which our team works their hardest to create the content we need and our client gets to see the finished product without knowing what we actually did to get there.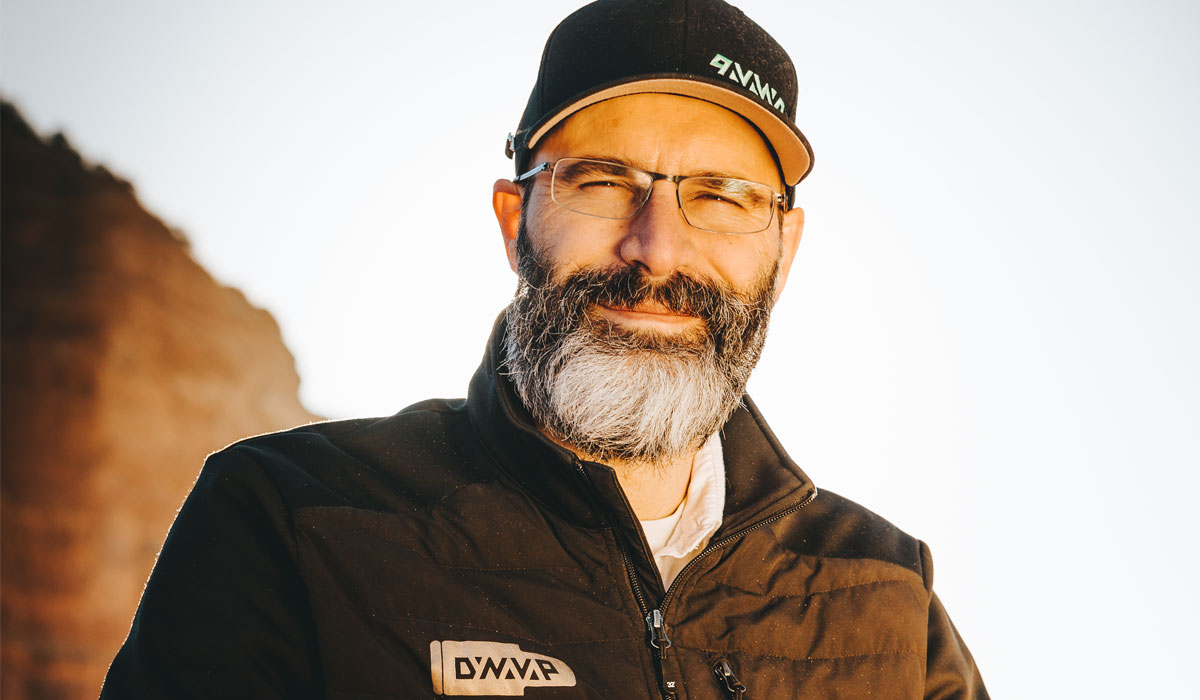 Our team was given a rare opportunity to spend five days with one of our clients, George, while shooting for DynaVap's brand anthem video in Sedona, Arizona. It's one thing to spend several hours on zoom-calls with someone, but it's another thing to spend five days under the same roof with them. We were able to get to know each other on a deeper and more personal level, bridging the gap between "the client and the company". George was able to be on set with us each day, observing our team operate as they used their minds to fulfill each task and find creative solutions to any obstacles that arose; some issues production-related while others were a little more… unique to the Dynamic team. This was an experience we wouldn't trade for the world.
The team hit the ground running from the moment they landed in Arizona. A long day of traveling by both plane and car, location scouting in Tempe, grocery shopping in a gas station for late-night snack essentials, and ending with building up our gear for the early morning ahead of us. We had a 6am call time for our yogi scene at the Bell Rock Trail which meant waking up around 4am and leaving by 5am. George watched our crew, exhausted from travel, push through to make sure we were prepared to shoot for DynaVap the next morning. He saw Mike and Jake stay awake until 2am to build up our camera rigs, Casey typing away on her laptop, coordinating all of our actors and locations, Brittney and Jess carrying around mattresses to make sure everyone had a comfortable bed to sleep in. He witnessed our team working as a unit before the shoot even started and continued to see this unit throughout the next five days as we created our shots. He observed intently as we used camera tricks and gimbals, sliding van doors, and even some laserbeams to bring his vision to life right before his eyes. That notorious "gap" was filled.
While the week was full of work, our creative team never misses the chance to have some fun. We spent most of Thursday driving around the Sedona desert in UTV's, taking in the beautiful scenery. It's hard not to look around you in awe when you're in the quote-on-quote "Vortex" of Sedona while the Honanki Ruins tower over you. We shared laughs and screams when Jake's turns were a little too fast. George even whipped out the One Wheel he'd been dying to use the entire week. Unfortunately, we lost two UTV's to one flat tire and one busted suspension. But hey, what good is a day spent in the desert if it doesn't end in a mile-long trek back to the road?
Each of us was allowed the opportunity to see a client and each other in such raw form, becoming friends rather than just coworkers and clients. For everyone to see the people around them for who they are and not just what they do brought about the truest sense of community. Throughout the week, it felt as though George left each of our team members with a piece of him, whether that was through a moment of silence enjoying a cup of tea, or the most thought-provoking conversation they'd ever had. We spent most of our nights enjoying a few drinks while George just spoke. We listened intently as he talked about why he does what he does, how his journey brought him here, and where he hopes his journey takes him. We learned that his mind is like a universe of its own, full of theories, visions, and wisdom. We brainstormed ideas for future products and shared visions we'd all had brewing in our minds for the next story we wanted to tell. A room full of creatives and the most transcendent engineer you'll ever meet.
One thing we've all discussed since that trip is that our creative team left Sedona with a renewed sense of purpose. Every single team member had an experience that encouraged them to reevaluate their "why's", and brought a sort of new energy to their workflow upon returning home. Whether it was the new bond we shared with George, or just some time in the Arizona sun together, our team became even more of a family than we were before.