2019 - PRESENT
A Redesign That Puts a Smile on Our Faces
What we did
Content Strategy
Information Architecture
Open Source
Responsive Web Design
Search Engine Marketing
Website Design
American Orthodontics
For over 50 years, American Orthodontics has been producing high-quality products for orthodontic specialists, providing dependable delivery and personalized service. American Orthodontics is committed to taking care of its customers, ensuring that they have a top-notch experience.
American Orthodontics needed a website that would support it in this mission. We partnered with the company for a website redesign, resulting in a highly-customized online presence that puts a smile on our faces.
Grinning Ear to Ear Over Front-End Style
To provide the best possible customer experience, we created an updated look and feel for the website. The appealing, easy-to-navigate layout provides a sense of the quality of the products being sold. We also created an interactive, easy-to-follow timeline of American Orthodontics' history in the About section, effectively sharing its story and allowing visitors to get to know the company in a personal way. These front-end improvements resulted in a style that will cause customers to grin ear to ear with confidence, certain that they have found the right company to do business with.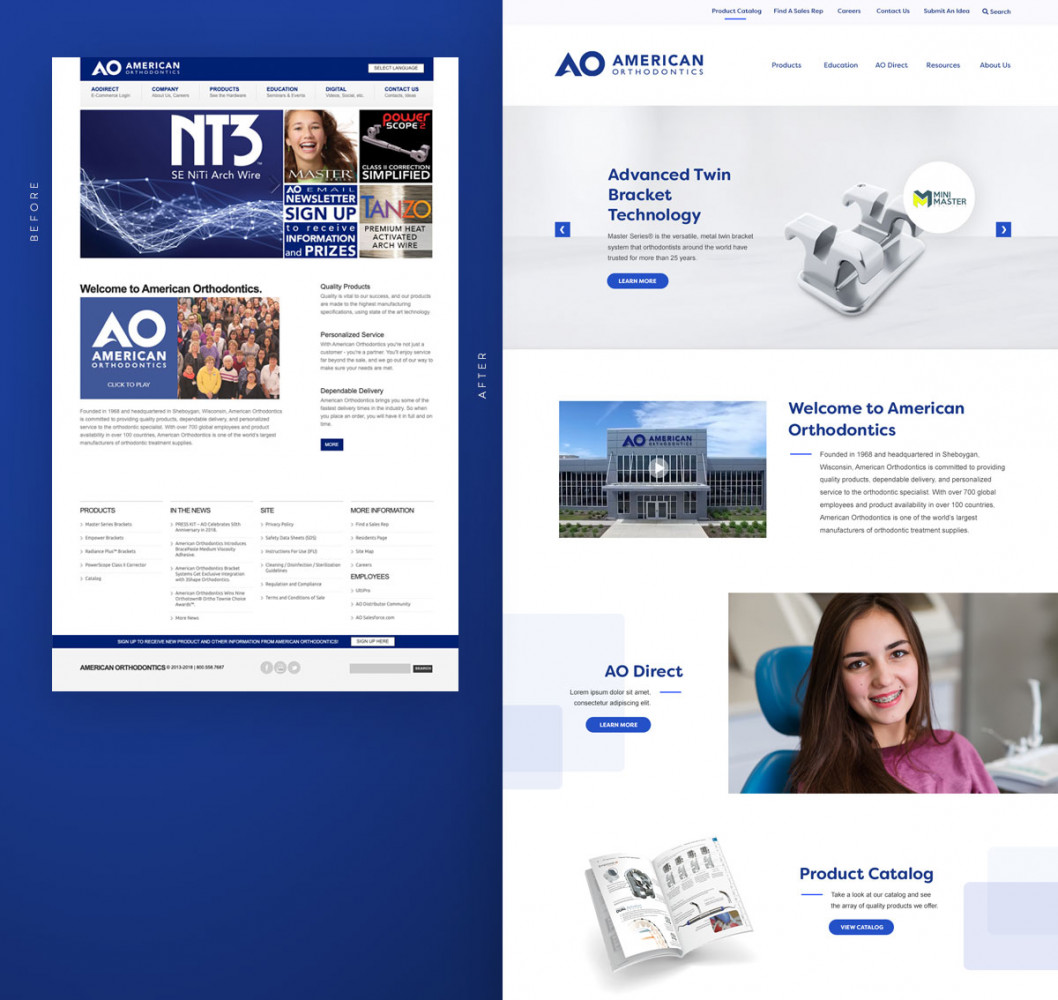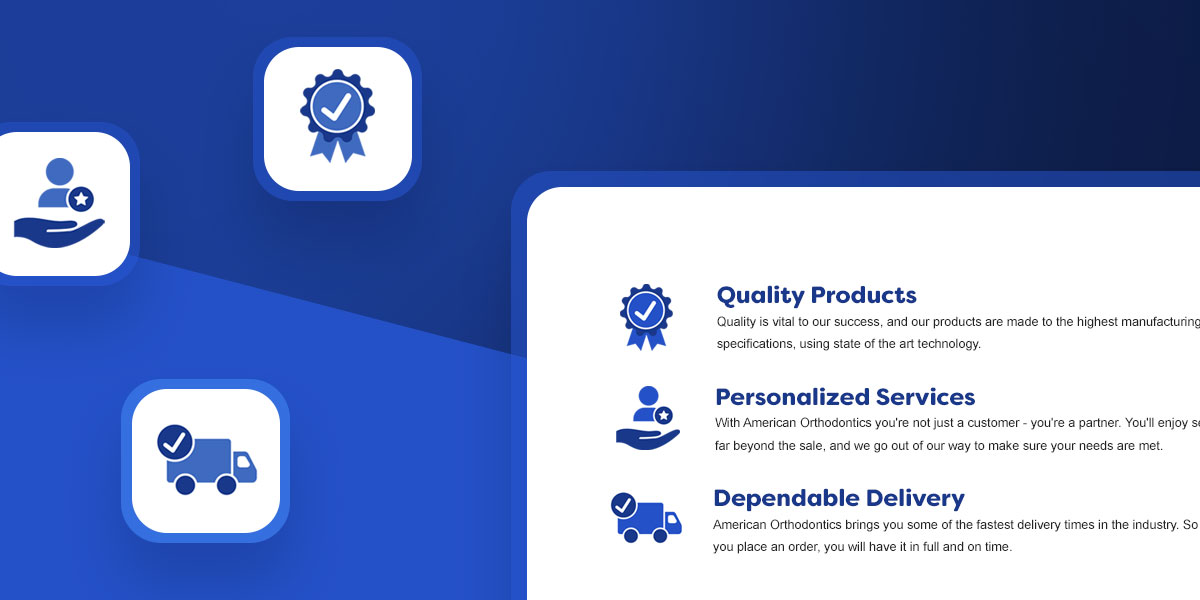 Sinking Our Teeth Into Back-End Upgrades
In addition to front-end site updates, we implemented many back-end, functional improvements. We installed SilverStripe, a user-friendly content management system, for ease of site management. SilverStripe supports the variety of features needed to both meet American Orthodontics' present needs and support its future growth.
For one thing, we completely overhauled the product catalog, turning what used to be a downloadable pdf into a dynamic network of product listings. We introduced a previously non-existent category view, allowing visitors to browse products by category and pull up related products. Additionally, we enhanced the product detail pages to allow for increased imagery and rich media, including 360-degree product views. The product pages can be easily managed within the CMS.
We migrated all event info, which functioned as a mini website in and of itself, into SilverStripe. The result? A robust Events section that allows users to search for, view, and register for events and courses of interest to them.
We also installed a module that allows for the quick, simple creation of custom forms that can be easily placed on any web page, capturing valuable user info. Additionally, we took advantage of available back-end features to make the site's content more social media-friendly. Between these tools and many more that American Orthodontics could decide to harness in the future, the installation of SilverStripe went a long way towards setting the company up for continued success.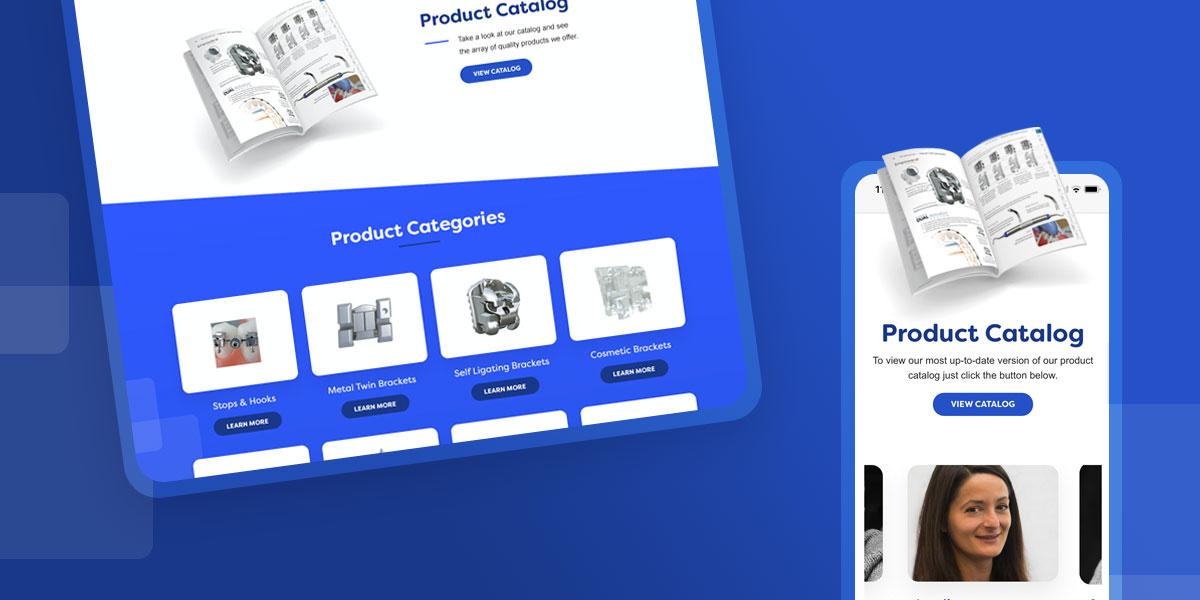 A Website Redesign That's Worth a Smile
American Orthodontics is a stellar company that deserves an equally stellar website. Our redesign work resulted in a custom site that meets the company's unique needs, enabling it to continue to provide personalized, quality service for its customers for many years to come. That's something worth smiling over!