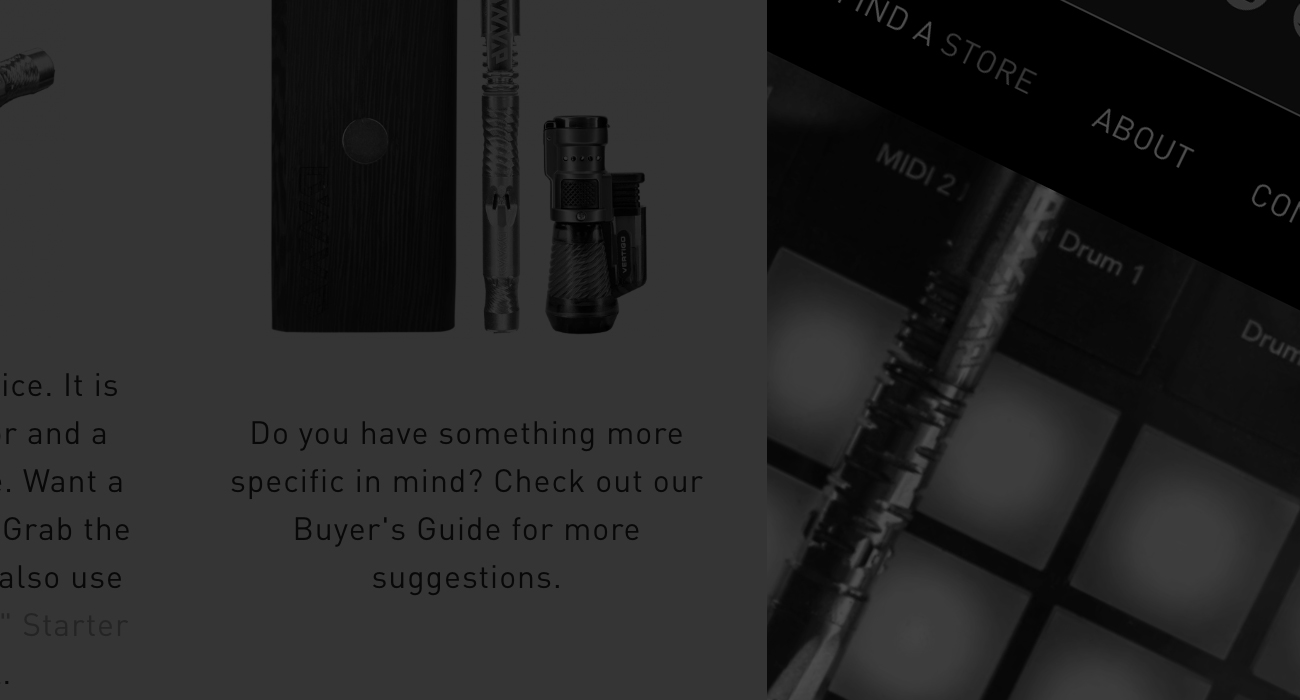 2021-2022
A Promise Delivered with Silverstripe Shopify
What we did
Content Management System
Ecommerce
Website Development
DynaVap
DynaVap has always had a specific goal in mind: to provide a simple, portable thermal extraction device consumers could take with them anywhere. Over the years, they've continued to deliver on this promise time and time again for thousands of devoted customers.
As DynaVap's sales have expanded, so has its ecommerce needs. To continue to deliver on its promise to its customers, the company requires a powerful, yet highly-customizable solution capable of supporting its online sales. We began creating a module that combines the powerful functionality of Shopify with the customization offered by Silverstripe. DynaVap heartily approved and its sales numbers have proven the benefits of the decision to switch.
Why Shopify
We knew that Shopify would be a great ecommerce option to fit DynaVap's needs and their sales since switching to Shopify have proven this to be the case. Why were we so certain that Shopify would work well for the company?
Reasons Dynamic is a big fan of Shopify:
It integrates well with other services. This makes it easy to push sales info from Shopify to an ERP, resulting in real-time inventory control that prevents overselling.

Multiple payment processors give customers the choice to pay all at once or make multiple payments.

It's able to connect to multiple shipping providers, which lets you take advantage of discounted shipping rates and flexible shipping options.

CRM connection, enabling you to reach out to customers post purchase.

Cart abandonment partners for maximized conversions.

Post-purchase customer review triggers.

Third party add-ons for offering coupons and discounts, as well as upselling.
With all of these benefits, it's no wonder we love Shopify. So does DynaVap, and we're confident you will, too.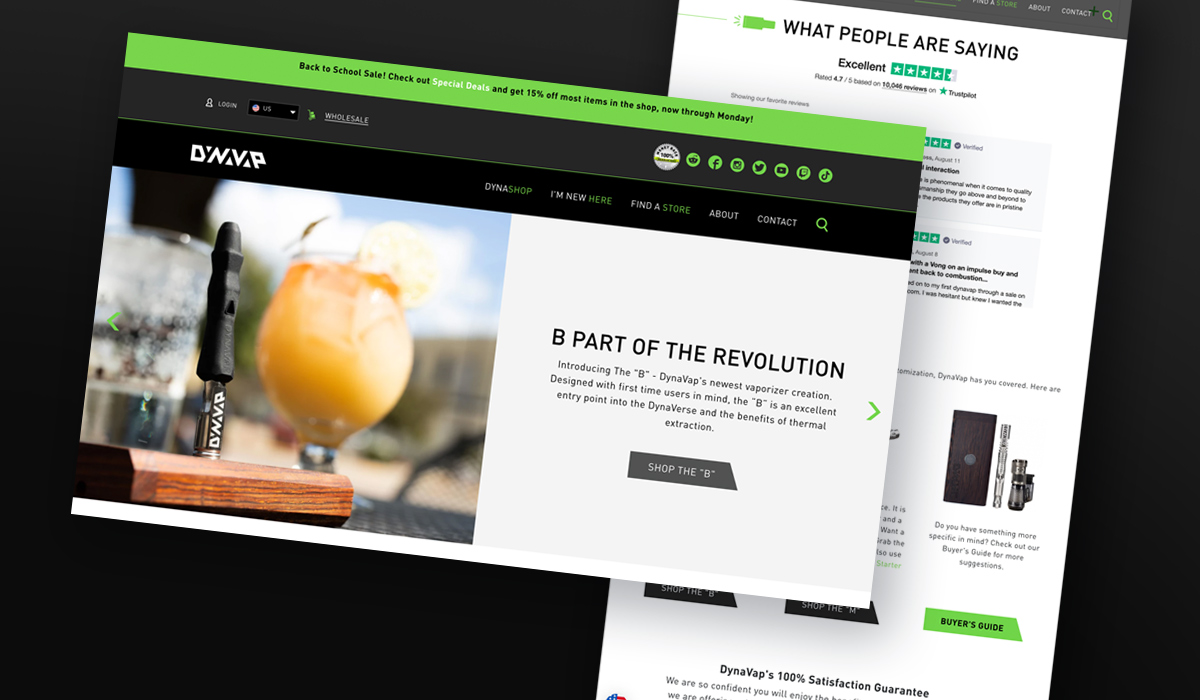 Why Silverstripe
Silverstripe is our CMS of choice for building client's websites. We're professional partners of Silverstripe and highly recommend it to the companies that use our development services.
DynaVap was ahead of the game when we began switching them over to Silverstripe Shopify, having used Silverstripe as their CMS of choice for years.
Below are just a few ways that DynaVap has benefited from using Silverstripe and why we recommend it to all of our clients.
Full Customization
Using Silverstripe allows us to create fully customized sites for our clients.
If you're a large or rapidly-expanding business or organization, a customized site is a must. You need more than a solution pulled out of the box, already set and ready to go. You need an option about every aspect that can be tailored to fit your specific needs.
Differentiation from Your Competitors
Many companies choose a popular CMS, pick a predefined theme or look to build off of, and call it a day. When you choose Silverstripe, we're able to build you a fully-customizable site that looks and functions as YOU want it to - the site that you've been envisioning since day one.
Total Control Over Your Brand's Presentation
Because Silverstripe sites are fully customizable, we can create a look and feel in keeping with your brand's style so customers know who you are at a glance, as well as build in any custom functionality that's needed.
Once we've laid out these factors, they're fully secure and can only be changed by developers. This means when there's too many chefs in the kitchen, the website will stay exactly the way you like it.
When you go with a Silverstripe custom site over an out-of-the-box option, you'll get:
Custom functionality and features built to spec

A content management system that's easy to use

Extra support from Silverstripe's open source community
For more information, check out this article that we wrote about why we think Silverstripe is the best CMS to power your content.

A Headless Shopify Store - What Could Be Better?
Silverstripe and Shopify are amazing in and of themselves. So what does it look like when we combine the two? A headless Shopify store - an online storefront with Shopify-driven functionality pulled into a Silverstripe-built site.
Enhanced Marketing Content
With Silverstripe Shopify, the product info comes from Shopify, as does the cart and checkout, but the content comes from Silverstripe. As such, the content population process is the same for product pages as it is for any other page in Silverstripe. This means that instead of being limited to the fields native to Shopify, you can add any kind of product-related content you want.

DynaVap has taken full advantage of this unusual freedom by adding product characteristics, user guides, compatibility charts, and much more. This more effectively reaches customers and provides them with the info they need to feel confident in their buying decisions.
Customer Accounts
This convenient website duo allows for customer accounts on your site for when visitors interact with your content. Customers will be able to view their order history from both Shopify and any ecommerce system you previously used, versus just the orders they've made since you switched. Additionally, we're able to sync customer accounts from your website to Shopify via Multipass. Once users are logged into your site, they'll automatically be logged into Shopify's checkout.
Delivering On the Promise
While DynaVap started out with a simple goal, their vision carried them to even greater heights than imagined. With more ecommerce needs, the company took the initiative to upgrade how they sell their products while still delivering on their brand promise. Our Silverstripe Shopify module proved to be the perfect fit that would offer the support DynaVap needs. Overall, investing in Silverstripe Shopify gives you the best of both worlds - the power of Shopify combined with the full control of a custom Silverstripe site. This combo was a must for DynaVap and has been essential to sustaining their online growth. What could Silverstripe Shopify do for your growing ecommerce needs?

If you're interested in learning more about how Silverstripe Shopify could benefit your business, we'd love to discuss that with you. Feel free to reach out today.